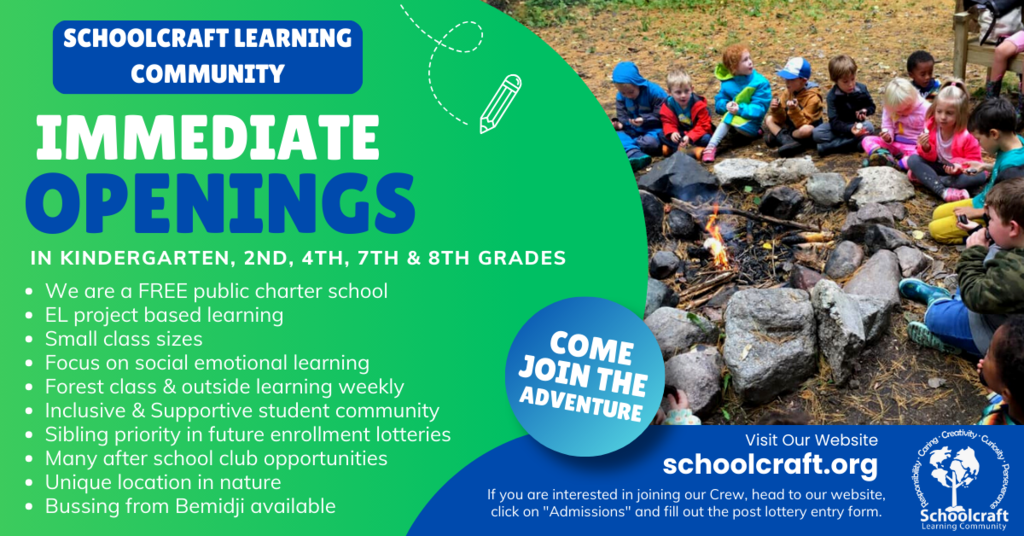 Come join our crew as a Substitute Kitchen Staff Schoolcraft Learning Community has openings for substitute kitchen staff for the 2023-24 school year. We are looking for both short call as well as a long term substitute need in the fall. Duties include prep, serving for breakfast and lunch. Previous commercial kitchen and/or serving experience is preferred but not required.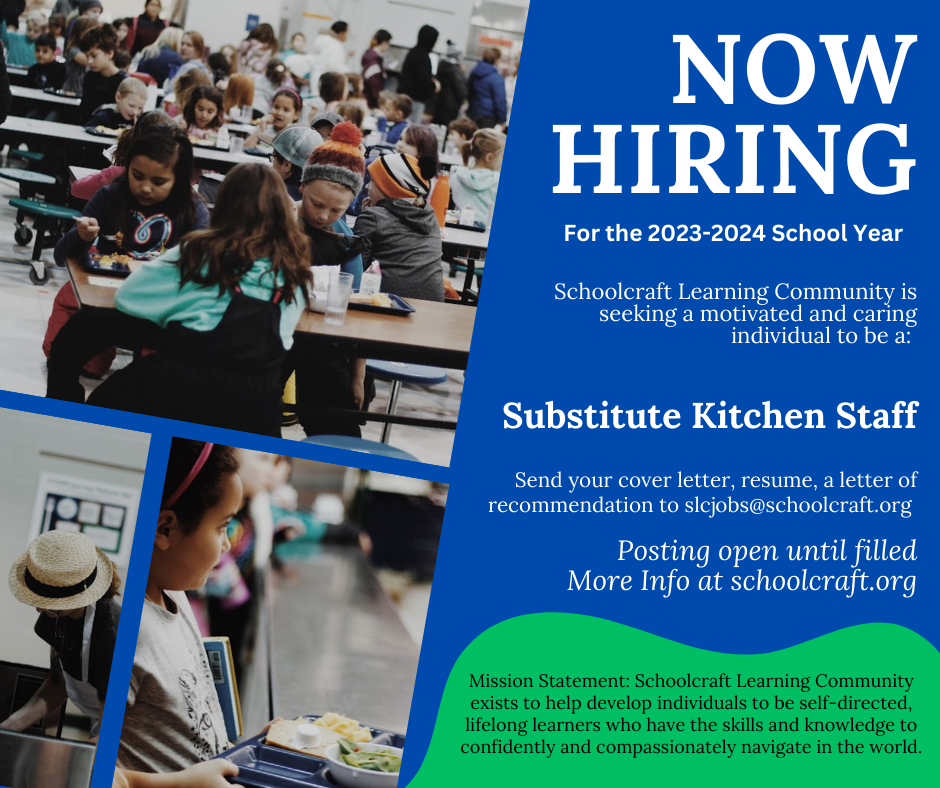 Hi! My name is Ann Rankin. I grew up in the small town of Waubun Minnesota. I went to Bemidji State University and got a degree in Elementary Education with a Pre Primary Endorsement. I just bought a house in Bemidji with my husband and stepson. This summer we welcomed a new addition to our family, a beautiful baby girl! She is already loved by all of our pets. My hobbies include any type of crafting and I use my skills to make costumes for anime conventions and renaissance fairs. I am ready to have my first year of teaching with the wonderful crew at Schoolcraft.

My name is Myrissa and I am joining the SLC team this year as the new 6-8 Humanities teacher! I was born and raised in the Bemidji area, am an SLC alumni, and love going on adventures with my husband and two boys. When I'm not teaching or managing mischief, you can almost always find me curled up with a good fantasy book, frolicking near a body of water, or getting joyfully "lost" on some nature trails. I look forward to getting to know you all!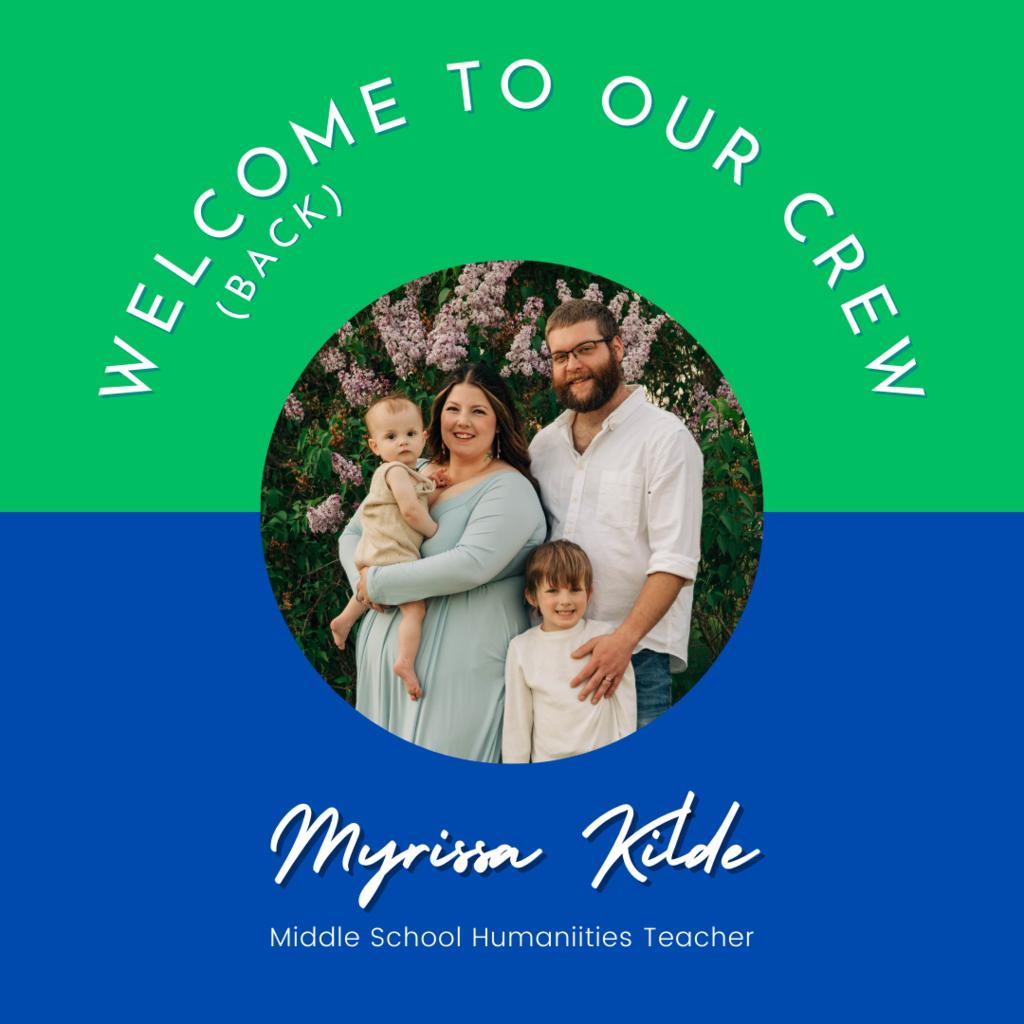 My name is Anna Kahlstorf. I am from Watkins, MN, but am currently living full time in Bemidji. I graduated from Bemidji State University with a double major in Mathematics and Mathematics Education. I love to play the piano, read, and spend time in nature. Someday, I plan to visit every Minnesota State Park! I am so excited to start my career in education, and I can't wait to learn and grow with the Schoolcraft community!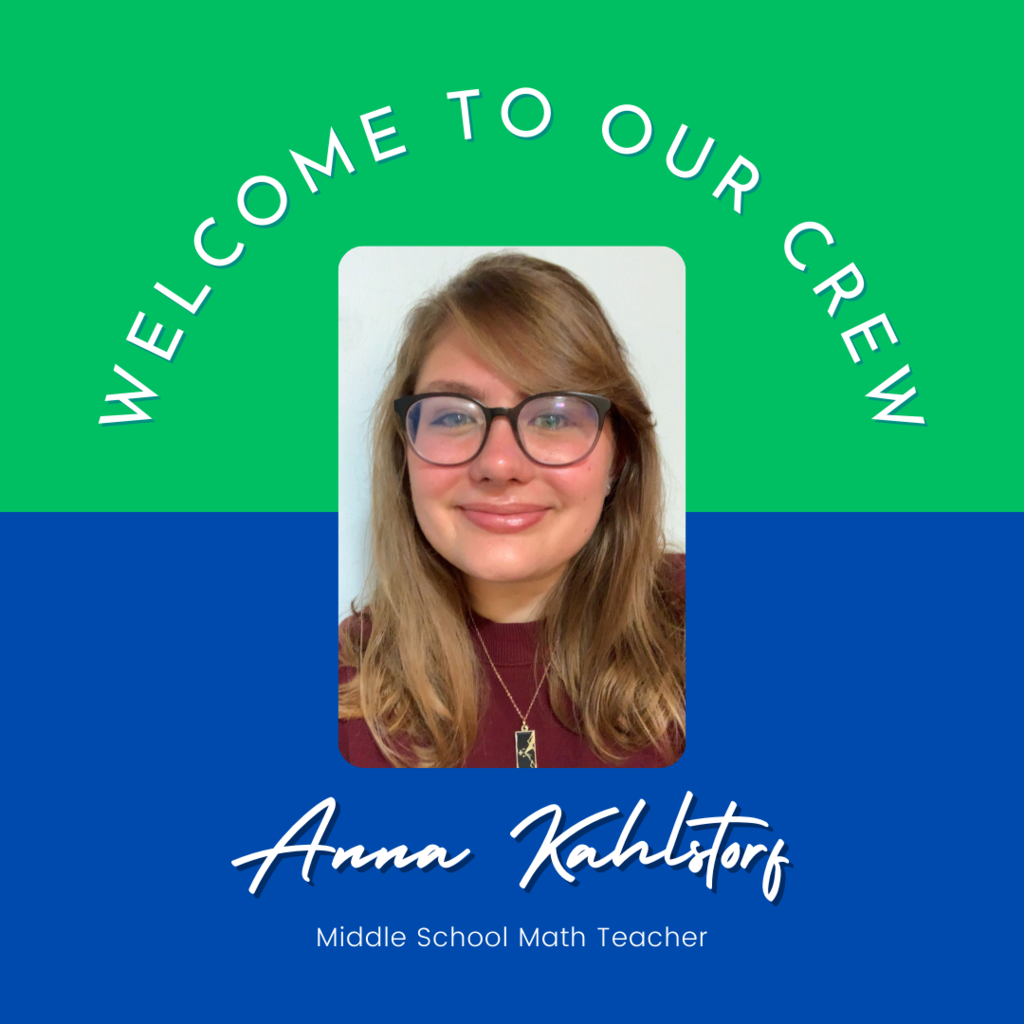 ​Come join the adventure at SLC! We are looking for a 4th & 5th grade teacher for this upcoming year.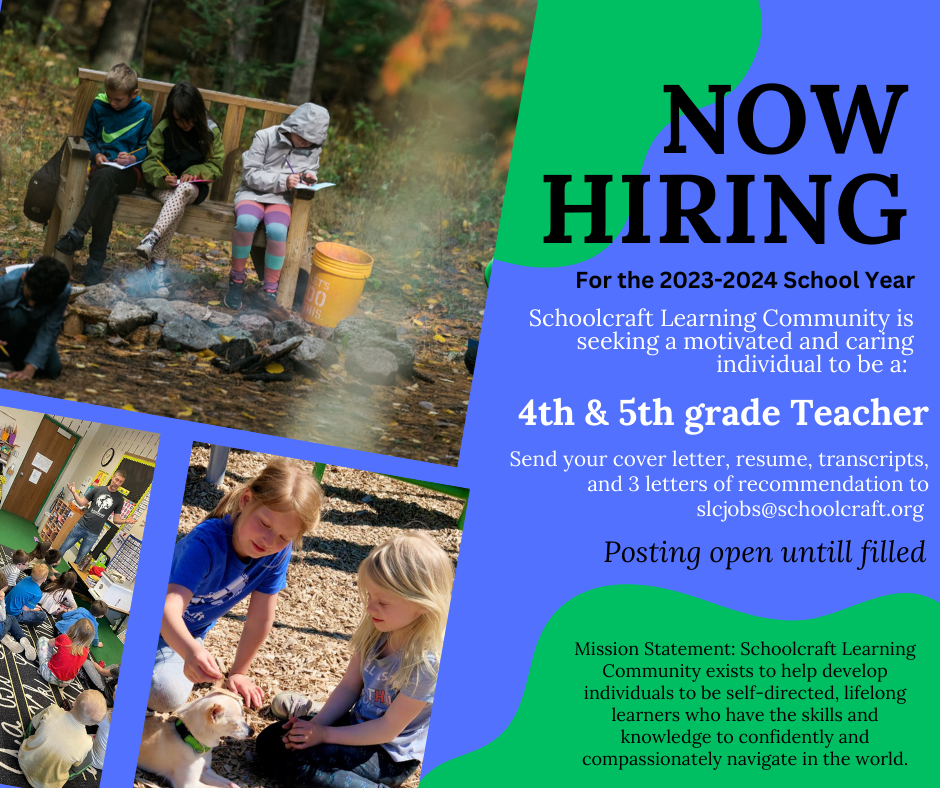 Join our Crew as a Para! Full Time 10 Flexible PTO Days Health Insurance Super Fun Times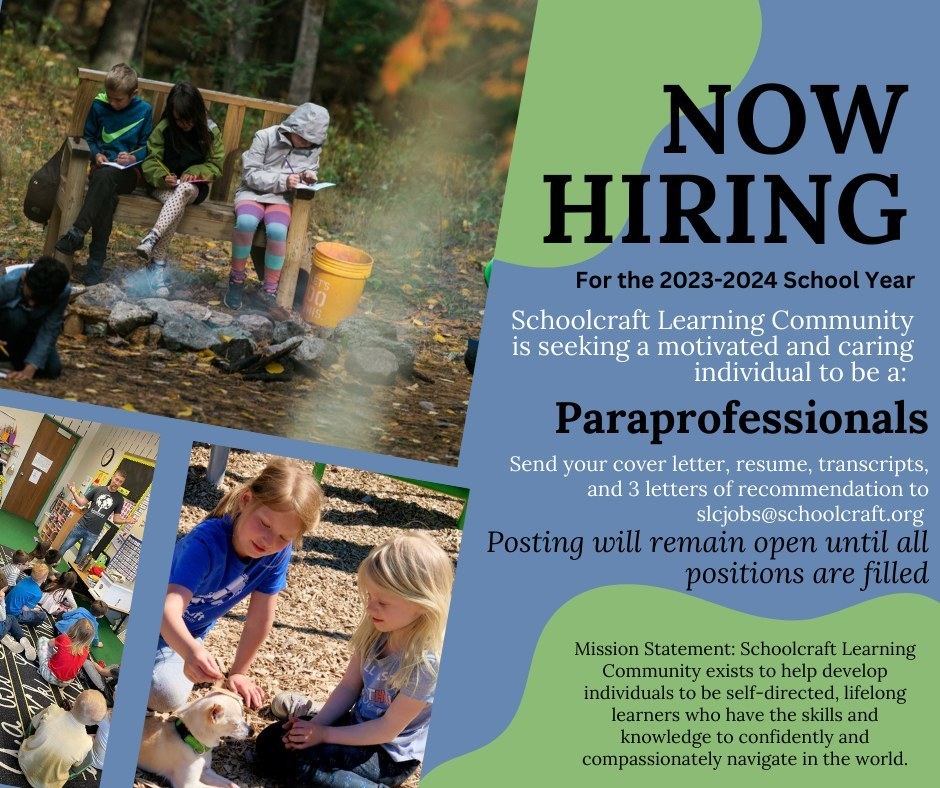 Our annual spring picnic is a few weeks away. If you wish to come to school for lunch with your student, email
attendance@schoolcraft.org
so we can get a lunch count.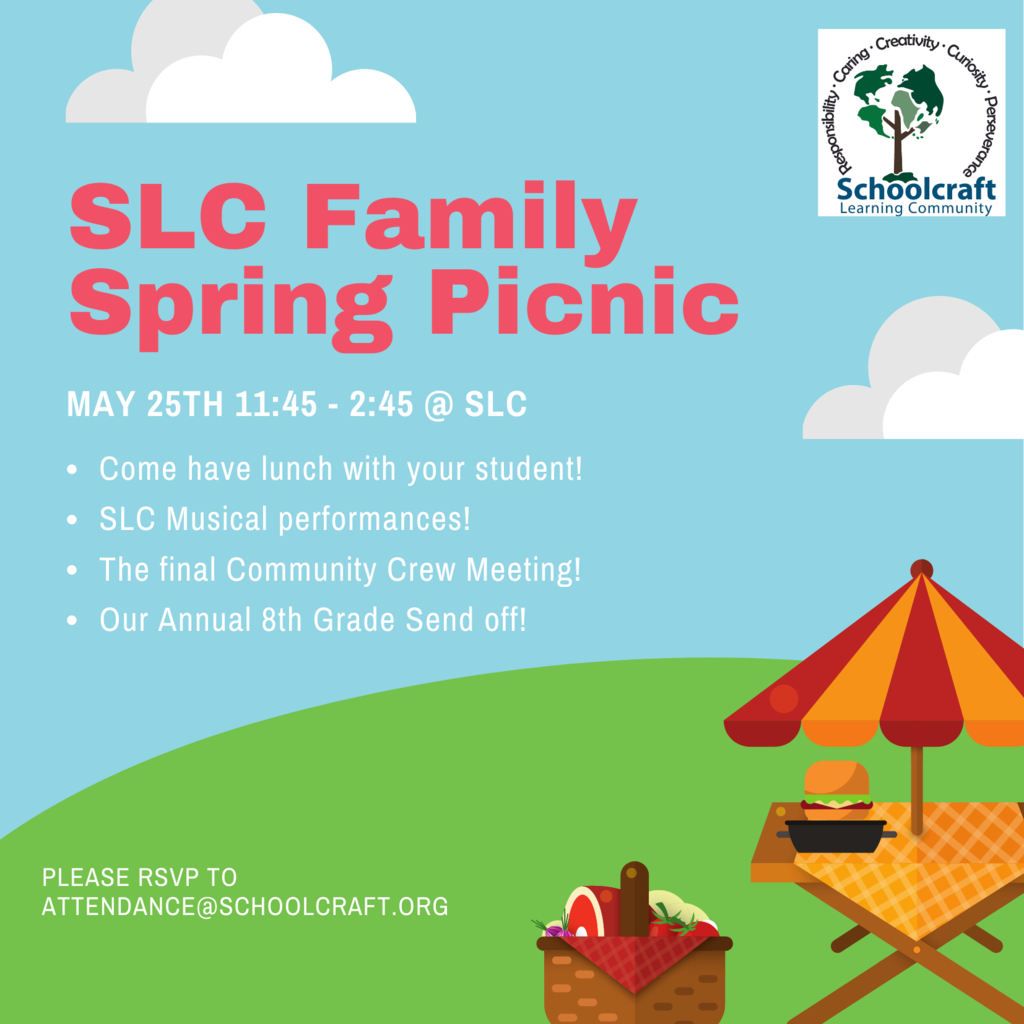 The SLC Fieldwork Food Truck Fundraiser is tomorrow! It should be a beautiful afternoon, so stop by for some awesome food, great music, fun games and activities. All to support the fieldwork students go on at SLC! Hope to see you there!

We are excited to have Teresa's Wicked Tasty Food at the SLC Food Truck Fieldwork Fundraiser. Teresa has 3 grandchildren at Schoolcraft, and makes some absolutely delicious food! Stop by, say Hi, and grab a bite next Tuesday!!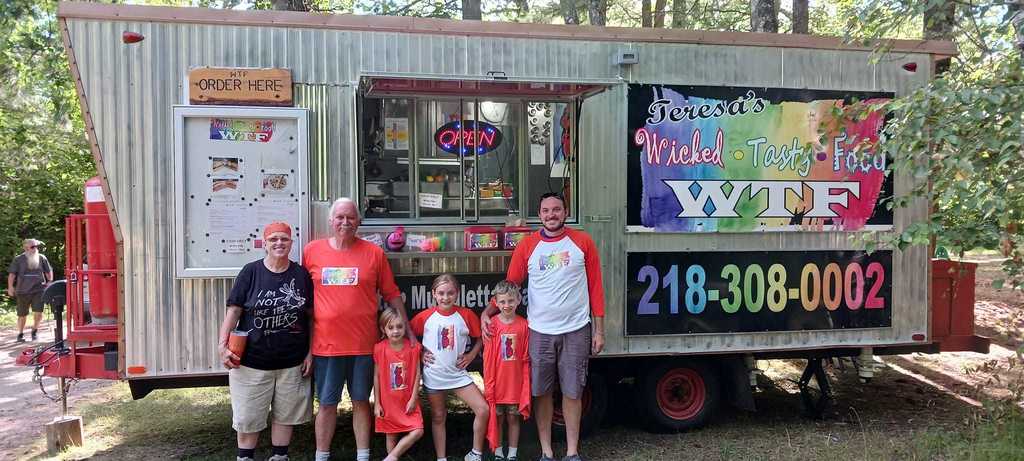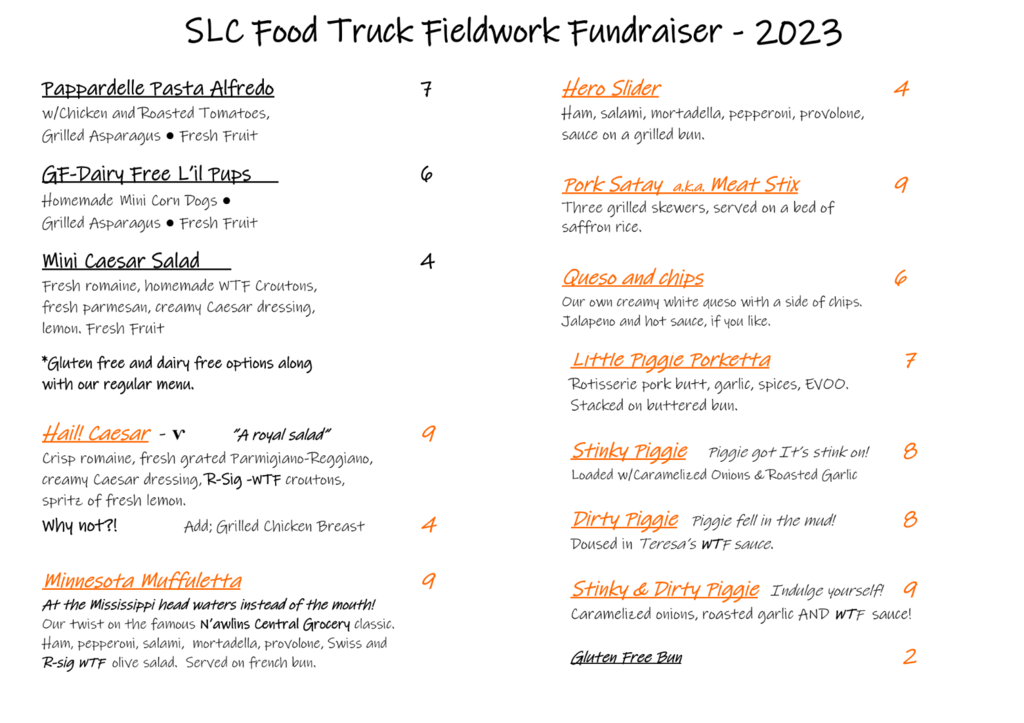 Schoolcraft will be closed Friday April 21 due to continuing poor weather and travel conditions. We do apologize for any inconveniences this may cause. Thank you.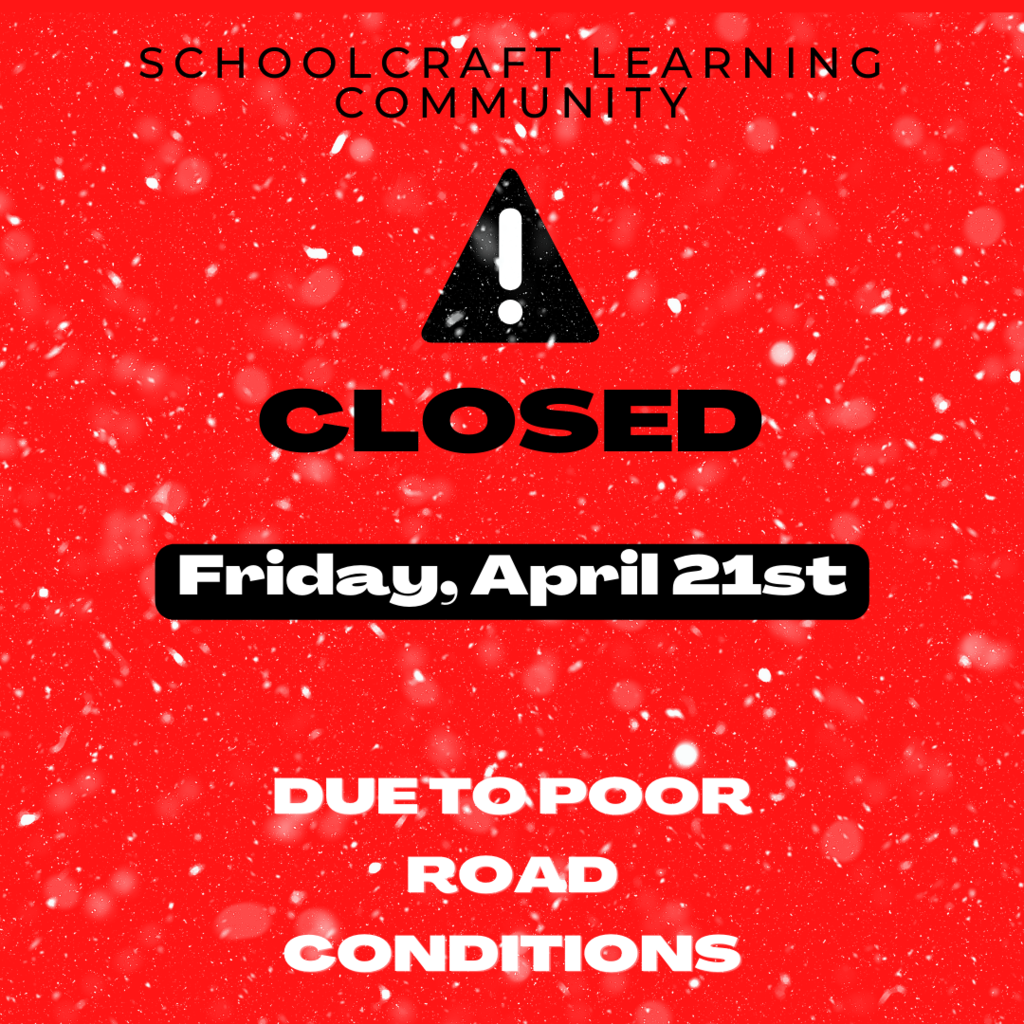 Tomorrow, Thursday April 13th, is our Family Forest Night "Take 2"!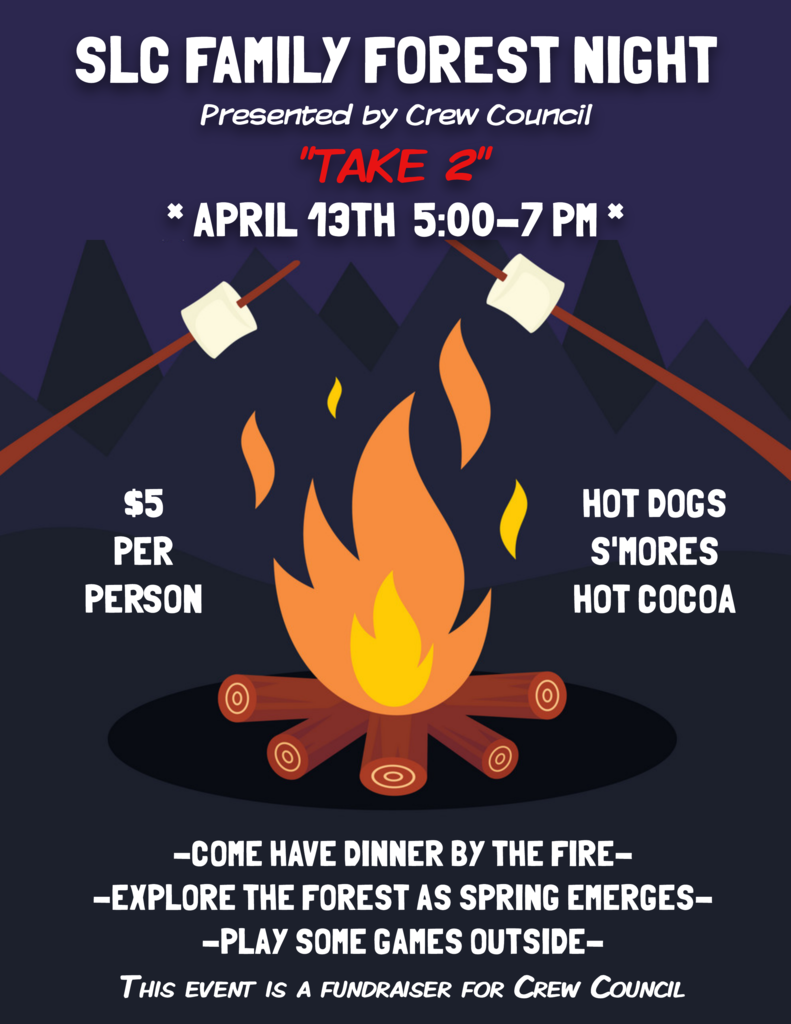 Due to continuing weather conditions Schoolcraft will be closed today, Thurs April 6th. Also a reminder that there is no school on Fri the 7th or Monday the 10th. Stay safe and enjoy the long weekend. Thank you.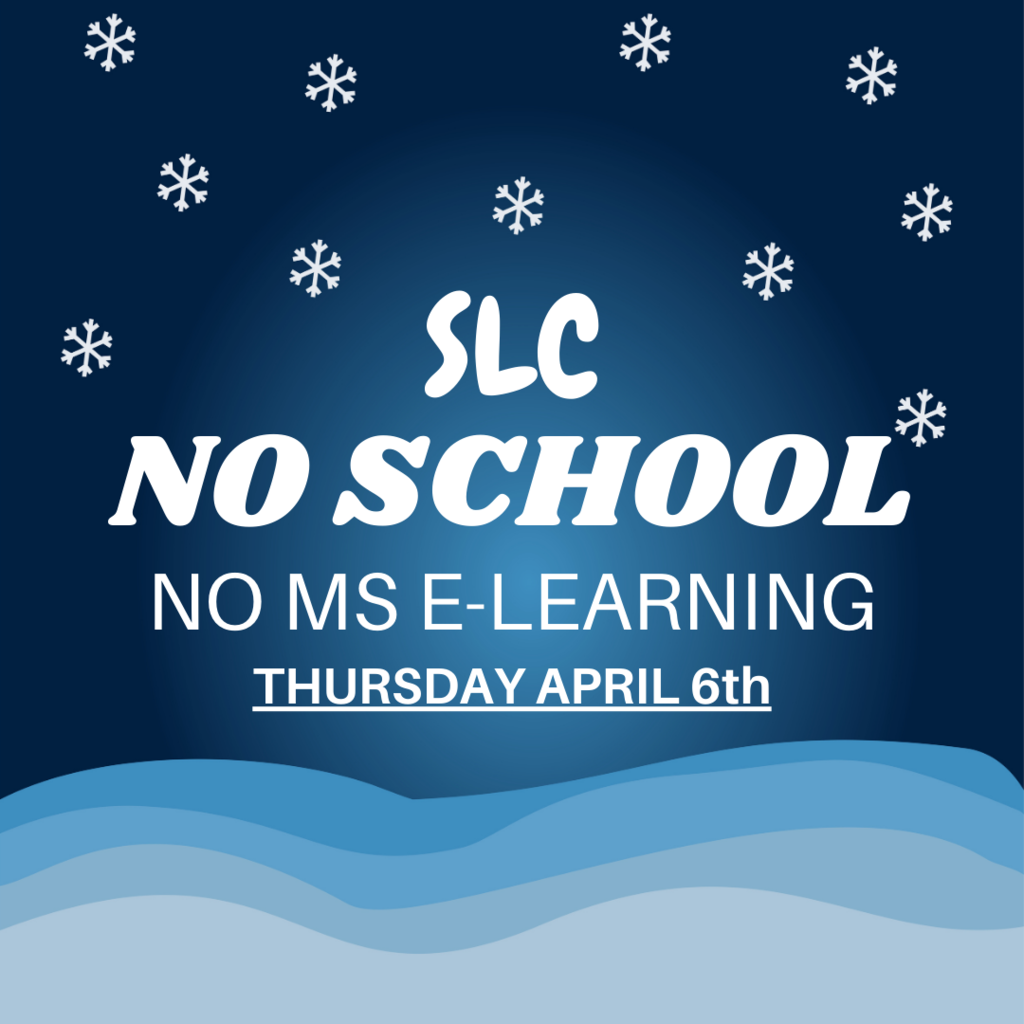 Due to road conditions, Schoolcraft will have a 2 hour late start on Thursday April 6th. Students and staff should report 2 hours later than regularly scheduled. Breakfast will not be served. Thank you.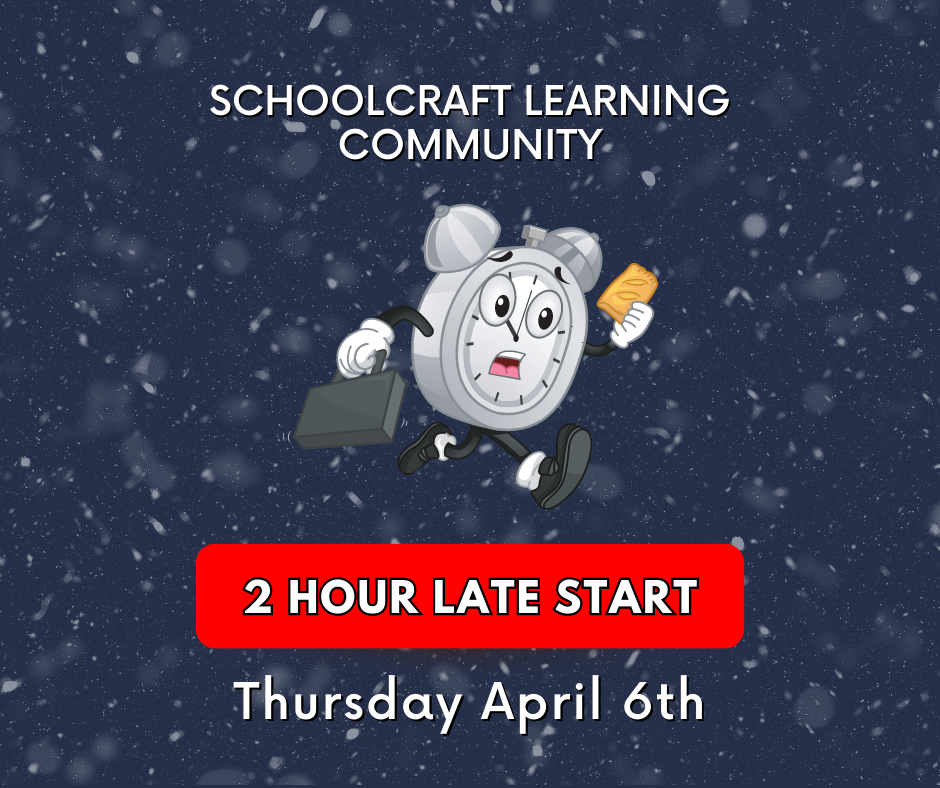 Due to impending weather, SLC will be closed Wed Apr 5th. This will be an E-Learning day for grade 6-8. After school clubs are canceled Tue. and Wed.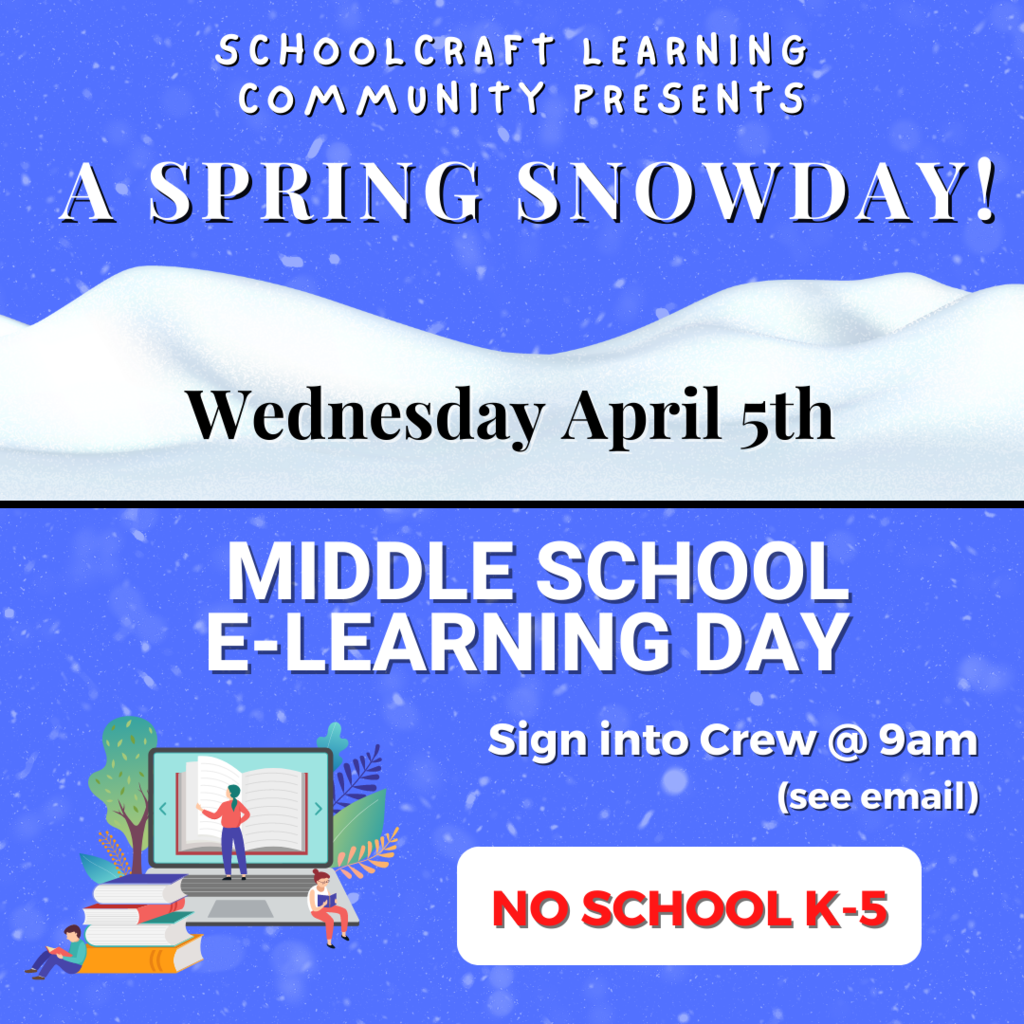 No Hockey Club today due to incoming weather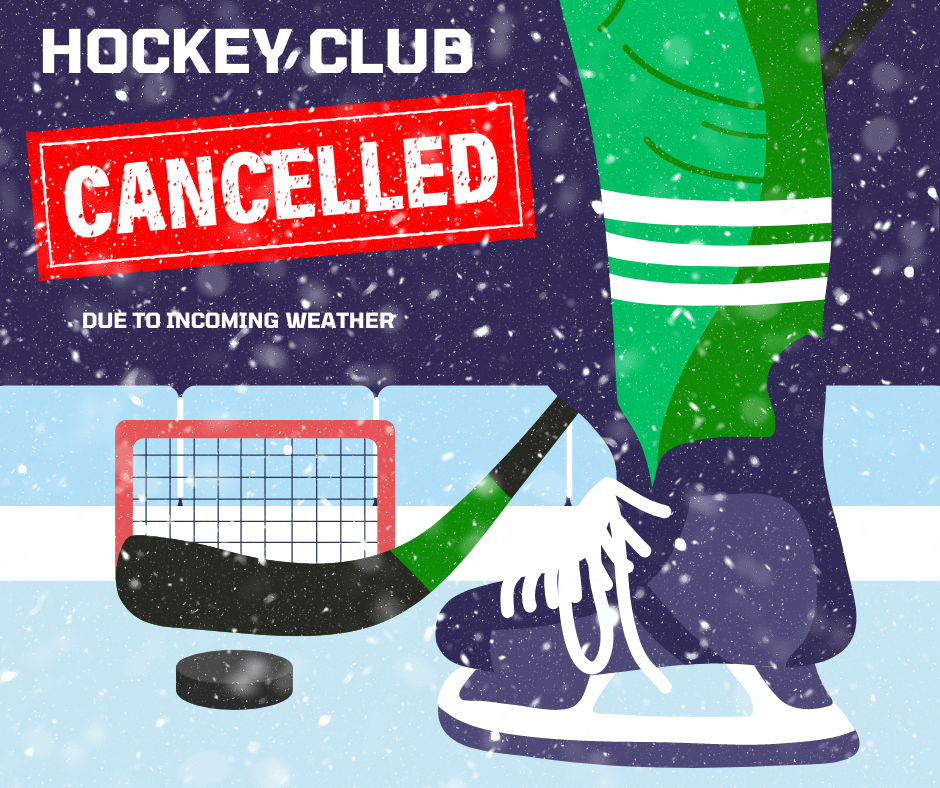 Schoolcraft will be 2 hr late Wednesday March 22 due to inclement weather. Breakfast will not be served at school.

Schoolcraft will have a 2 hr late start today, Thursday March 16th. Breakfast will not be served at school. Buses will be running 2 hr late. Students can begin arriving at 10:30

Family Forest Night is Tomorrow! Our Crew Council has been working hard to put this event on. Come roast a meal on the fire & enjoy the Wintry Forest before its gone! You can always warm up by the fire or head inside for hot cocoa and games! Hope to see you there!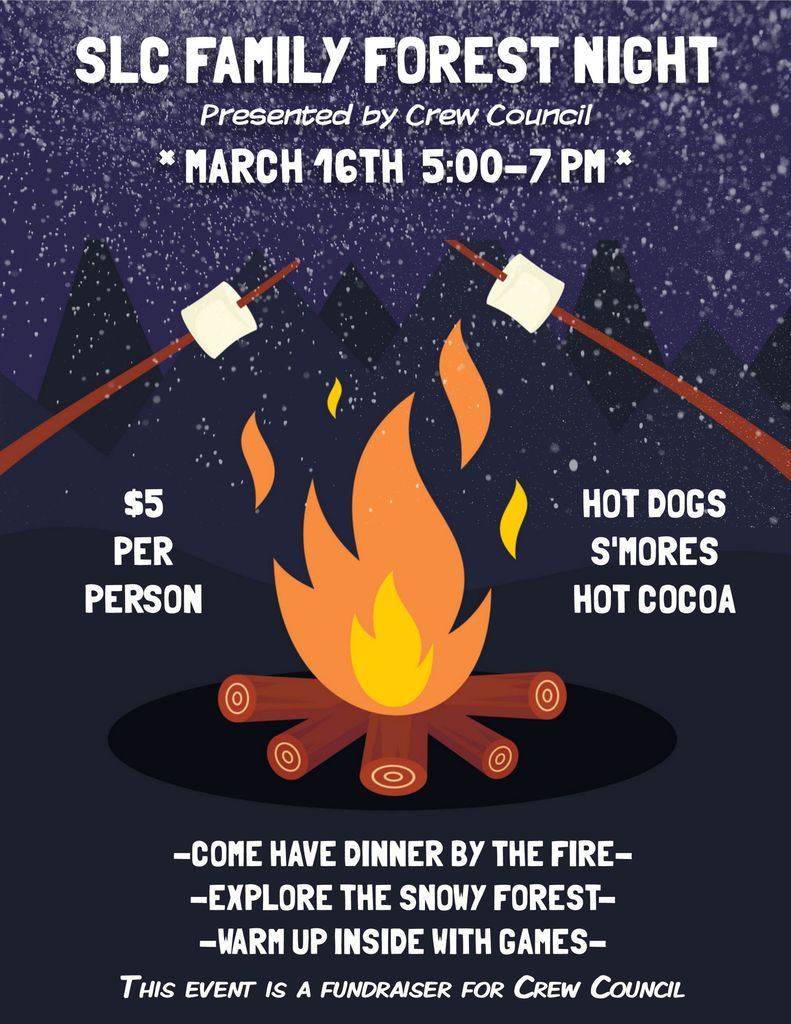 There will be a special board meeting this Wednesday March 15th @ 3pm at SLC as the board conducts interviews for the next Director of Teaching & Learning.